Name: Sin Rijun
-Nickname: (Sin)
---------- Appearance ----------
Race: (Human)
Age: (19 years old)
Gender: (Male)
-Skin Tone: (light brown)
-Hair color: (dark black)
-Eye Color: (gray)
-Weight: (176)
-Height: (5'10)
Physical Description: has beaming eyes that feel as if they could see through people...
Wardrobe Description: changes clothes often...so can't really say what kind of wardrobe he has..
-Picture: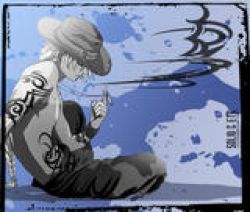 ---------- Personality ----------
Personality: responsible and tough but rarely let people see the emotions running through his veins. most people think he is out for trouble. he is not much of a talker but he listens. he is laid back, easy going, mature to a point but still goofs around every now and then, especially when hes around his crew. he has a sweet tooth and bad sense of direction (like luffy and maybe even zoro)
Likes: fighting, exploring, adventures, eating good food, milk is his favorite drink.
Dislikes: people who don't stand up for what they believe in
-Main Values: believes in honesty and straightforwardness. Being what you really are and not losing your identity is his main value
-Relationship/Crushes: hes been in many relationships but hasn't fallen in love.
---------- Information ----------
Job: Pirate Captain
Rank:
--*Weapons/Armor*:
--*Devil Fruit*:
--*Fighting Styles/Techniques*:
--*Crew*:
--*Ship*:
---------- Background/Other ----------
Other Facts: he is lazy, a womanizer, has a fiery temper, his bones are stronger then the average pirate because he drinks a lot of milk, and he takes pride in what he does.
History:
----------
I PROMISE TO FOLLOW THE RULES, OBEY THE ADMINS, AND RESPECT OTHER MEMBERS OF THIS SITE.
*NOTE: Anything with 2 -- or *'s means it must be approved somewhere else before it can be used.